Charming cities, vintage cars, beautiful architecture, wonderful beaches, friendly people and a country that is soon going to change. So do your best to visit Cuba before it is too late, it will never be the same again. Additionally, it is not overly expensive either, so if you book your flights relatively early (the largest costs of your trip), you can have a wonderful vacation at low budget. And you have to start with Havana!
Why not wait?
As soon as you arrive in Havana and you see those amazing vintage cars and the wonderful architecture, you instantly feel like you have been transported to another era. Unfortunately this will change very soon.
Cuba has maintained its charm thanks to the embargo. The Cubans could not trade with anyone, so they had to make do with whatever they had available and not "spoiled" by new technology. No US person was allowed to travel to Cuba for half a century…until now. The sanctions are being removed and several airlines already started scheduling flights to Havana. Cuba will become the top destination for many Americans, who are only few hours away by flight and intrigued by Cuba's beauties and mystery. So I feel that Cuba might lose the "time stopped here" aura…
A great honeymoon destination too, combining beautiful sightseeing and amazing beaches.
PS: For me Cuba is particularly special, as my hubby proposed in Havana, another reason to visit Cuba if you are planning to go down on one knee 😉
Short and sweet
Capital: Havana (charming, beautiful, magic city – ideal stay 3 days)
Top must see: Havana Vieja walking tour, Trinidad, Viniales, Cienfuegos, Relaxing beaches
Eating out: Mostly in the local restaurants (lot of rice, beans and chicken), drinks are better (especially daquiri, mojito, cuba libre, cubanitos)
When to visit: Best from December to April
To get by: Spanish language (the guides will speak reasonable English), CUC or Euros/GBP (check more details at the end of the post on what you need to know before going to Cuba)
Did you know? Rumours have it that Fidel Castro said in 1973: "The US will come talk to us when it has a black president and the world has a Latin American pope". Never say never Mr. Castro!
Magical Havana with its enchanting Havana Vieja
Just stroll around beautiful Old Havana and you will fall in love with the charming buildings, antique cars and the aura of a different era. We (well, my "then boyfriend, who in Cuba became fiance") arranged a guided tour through the city. This was the best way to see the top spots and learn about the City's history in 2-3 hours. You can then wander around on your own and stroll through the charming streets. This is Rome of the Caribbean.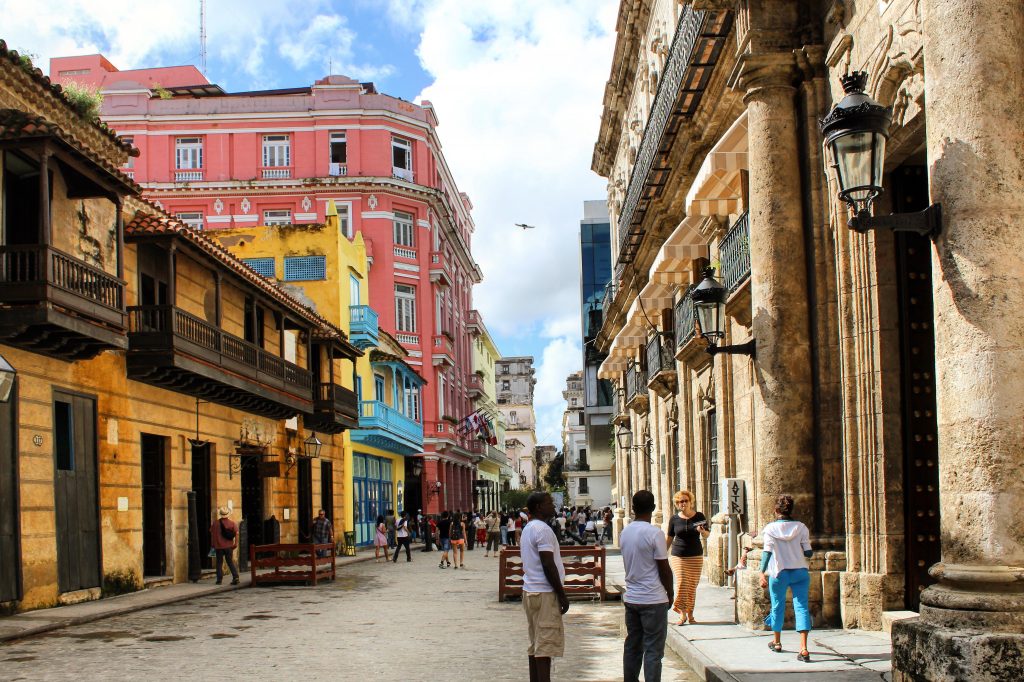 Havana Cathedral
Havana's Cathedral has a special place in our hearts (like entire Cuba really), because my husband proposed to me inside this very beautiful cathedral. The church is really pretty and located in (conveniently named) Plaza de la Catedral. After the proposal we had a quick cocktail at the restaurant in front of the cathedral, before heading out for our vintage car tour!
Rent a 50's vintage car
A drive with a vintage car is a slightly more costly way of seeing the city, but a must even if for 30 minutes. Unforgettable!
Havana views from the Christ of Havana
Check out the large sculpture representing Jesus of Nazareth on the hilltop overlooking the bay in Havana.
Don't leave without trying your rum-inspired cocktail
Ernest Hemingway suggested "My mojito in La Bodeguita, my daiquiri in El Floridita" and he knew what he was talking about. So we had to test and taste both!
La Bodeguita Del Medio is probably the most popular bar in Havana, thanks to the many celebrities that have left their autographs on the walls. While some people argue that the mojito has lost its Hemingway-ian charm, we thought it was very refreshing and original. You have to find out for yourself I guess. Try at home: white rum, leaves of mint, soda water, lime juice, sugar.
El Floridita is said to make the best daiquiris in the city and we can attest to that! You can sit at the bar with a daiquiri and a Cuban cigar, while listening to one of the nice live bands that are invited to play here. Want to give it a try at home? White rum, lime juice, sugar.
Tropicana cabaret
If you are spending few evenings in Havana, you can add Tropicana to your evening entertainment, the world-known cabaret. The Tropicana show opened in 1939 and is one of the very few Vegas-style establishments that survived the revolution. The show, the dancers and the music promise an unforgettable night.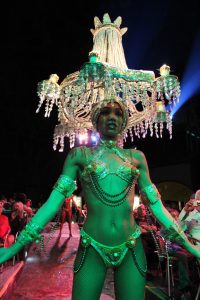 There is much more of Cuba outside Havana
Last, but not least, if you are in Cuba for more than a long weekend, you should definitely visit some of its must-see charming cities. And let's not forget the wonderful beaches: the best way to relax after an adventurous holiday. Check out our additional Cuba recommendations: Las Terrazas, Vinales, Cienfuegos, Trinidad and Cayo Santa Maria.
Important information if you are heading to Cuba
And the very last (and probably the least interesting) part: prepare ahead to avoid surprises when you arrive. When planning to visit Cuba, you need to keep the below in mind:
Tourist card: In order to enter Cuba you will need a valid passport, a tourist card, travel/health insurance, return flight and sufficient money to show that you can afford the cost of your trip. The tourist card is provided by the travel agent, tour operator, airline or can be obtained at any Cuban airport upon arrival (we opted to have it before the trip to avoid any queuing).
Currency: Cuba has a dual currency system: Cuban pesos or National coin for the locals and CUC  (or Convertible pesos or also knows as "dollar" for the tourists). As you will guess, the cost for the tourists paying in CUC is more expensive than what the locals pay. I guess this is fair though given the earning power difference. Avoid having USD with you if possible as you will pay a 10% penalty when exchanging the money. The government has announced in 2015 that they will remove the dual currency, but no changes yet on that front.
Passport stamping: We asked the passport control to not stamp our passport. We wanted to use the same passport to go to US, so stamping would have causes issues. And the border control kindly agreed. In other instances they have ignored the request and have stamped the tourist passports. I suppose with the sanction lifting the stamps should not be causing too many issues going forward.
Departure tax: in the past one used to pay departure tax of CUC 25 per person upon departure. Since 2015 this is included in the taxes payable when booking your flight or holiday package (one hassle less!)
Safety: Cuba is a safe country and people are very friendly, but avoid secluded alleyways in the dark (like in any other country)