We don't tend to go on holidays to the same place twice (too many new places still to explore), but for this little heaven we made an exception. Constance Moofushi is consistently ranked as one of the best hotels in Maldives and rightfully so.
The location
The island is pretty small (2sq.km), a great size to discover all the beach spots and facilities during your stay, but it never felt crowded or busy. It is located in one of the best diving areas on earth, on the South Ari Atoll, 30 minutes away from Male via water plane (amazing experience to watch the beautiful islands from high up – we even spotted a massive 30+ meters whale).
Constance Moofushi dream beaches
Breathtakingly beautiful beaches, very fine white sand from the corals (doesn't burn your feet even if the air temperature is really high), amazing sunsets. You can swim next to the fish and sand sharks: they are so cute (don't worry, they don't bite, they eat plankton and they run away when you try to approach them).
The hotel
Luxury, 5 star, beautifully built all-inclusive resort (no other hotel/restaurant in the island). Constance Moofushi offers 24 Beach Villas, 56 Water Villas and 30 Senior Water Villas. We shared our time between a water villa and a superior one (I wanted to be above the water:)). A superior villa is in essence a water villa, but slightly bigger and with a bath tub.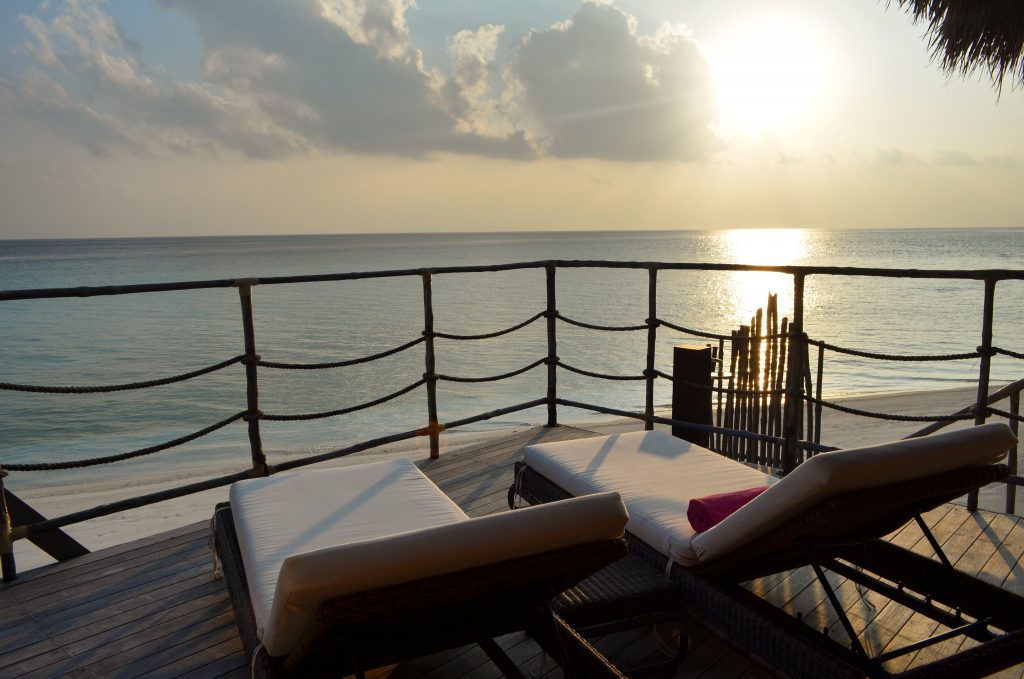 The service is really great: very friendly, personal, knowledgeable maitres and waiters, they will go the extra mile to offer a unique experience. The hotel manager was always around, available and very welcoming.
Food and drinks
The food was delicious! Lots to choose from and all very fresh. You could go for the many buffet options or have something cooked for you at the live bar.
Breakfast: Tropical fruit and juices, fresh croissants and freshly baked pastry, porridge, cereals, dairy products, Asian-style breakfast, American or English breakfast, large selection of tea, coffees and deserts.
Lunch and dinner: international and local cuisine changing every day, new specials every day, live bar, more than 120 wines at your disposal, mouth-melting deserts…
Snacks, cocktails, refreshments: if you are hungry or thirsty in between meals, you can pop by Totem bar and enjoy snacks, crepes, refreshing smoothies and more. In the evening you can enjoy your favourite drinks in the bar while the DJ is playing music or have a romantic drink by the beach.
Vouchers are given upon arrival for dinner at the a-la-carte restaurant (Alizee) where the setting is more private. You can choose to dine a-la-carte more often by paying an extra fee and booking in advance. We found that 1 dinner at the a-la-carte restaurant (which is included in the package) was sufficient and used the buffet restaurant all the time.
Let yourself be spoiled
Spa massage
Sun, beach and white sand… What else could make this unique holiday even more special? A relaxing massage of course! I enjoy my massage slightly strong and this is what I requested. Not only was the massage focusing on the pin points to my great relief, but I even fell asleep!!! I have never fallen asleep before during any massage sessions and this was not a caressing one, it was a proper massage… But it was so relaxing and flowing effortlessly that I fell asleep both times I tried the massage during our stay. Most relaxing and rejuvenating at the same time. Below you will find me after the most relaxed hour! They also offer you tea with some fruit while you are enjoying the view post the massage.
Sunset cruise
You can book a romantic boat trip or sunset cruise with your loved one and enjoy some sailing in the turquoise waters.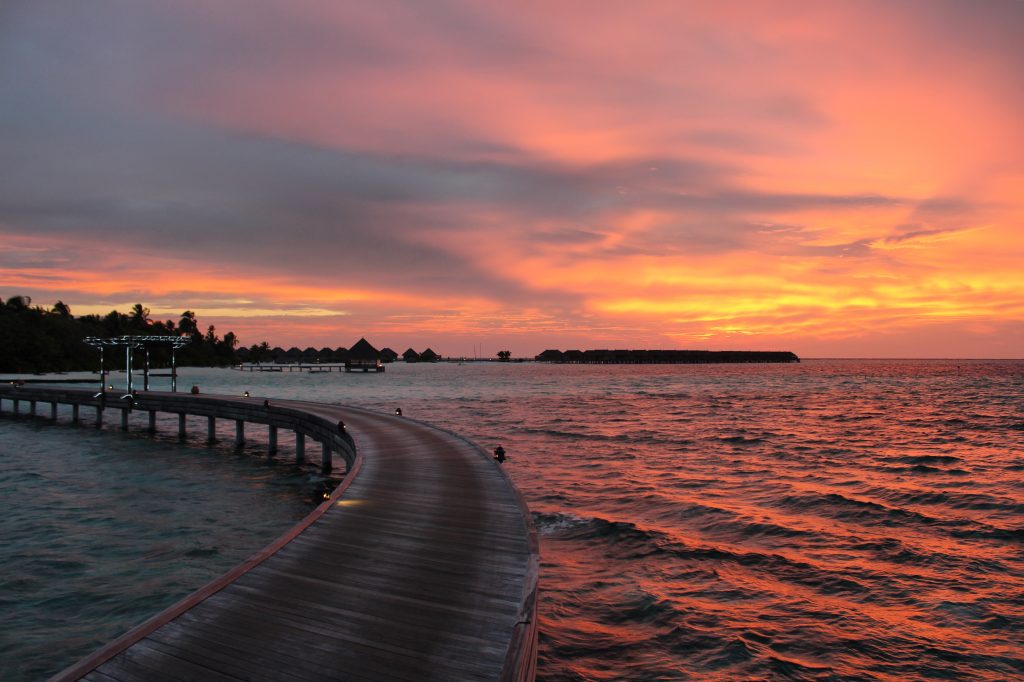 Breathtaking sunsets, romance at its best
Plant a palm tree to commemorate your special occasion
Is it your honeymoon or anniversary, birthday or special occasion? Or maybe you are getting married in Moofushi. All great reasons to plant a palm tree, carve your name, a poem or even a drawing. The board in the middle where you see the S and P (our initials) creating a heart was my special drawing for our honeymoon palm tree. When we visited the second time around, we felt we like it too much to leave it there. So we decided to take it home (the wooden plaque, not the palm tree!). It is featuring amongst the favourite decor items in our library. Planting the tree was a fun exercise.
Choose Moofushi for your Christmas or New Year's Celebrations
If you live in Europe, you are maybe used to snow-covered Christmas and New Year. But it can look equally beautiful and feel just amazing to walk around barefoot on the white snow-like sandy beaches of Maldives, with the temperatures in the 22-30 degrees Celsius.
This is what we did for our honeymoon and it was an amazing experience. In fact one of my uncles commented in our Maldives facebook photo: "Happy New Year, wish all your dreams come true and may your heart remain as pure as the white snow you are standing upon!". Needless to say, my uncle has never traveled outside Albania, so for him December + White = Snow…
This was my first time by the beach for New Year and I loved it. The staff at Moofushi put lot of effort to make the New Year's Eve celebrations unique. Starting from the exquisite dinner menu, continuing with the special decorations and amazing party afterwards, all was wonderful.