Have you heard of Myanmar? Perhaps you know it as Burma… A country that was isolated for many years under their military regime, has started to slowly open up to tourism. And we are lucky it has, given the magnificent sights it has to offer. Thousands of temples and pagodas,  beautiful lake scenery, wonderful Asian food (hardly spicy at all – which is what I like!) and super friendly people.
If you hadn't heard of Myanmar before, the below photos will convince you to add it to your bucket list. Ideally sooner rather than later, as the country is bound to change now that it is open to more and more tourists. Currently the majority of the tourists are backpackers, so the costs are still low. Therefore, hurry up and plan your next South East Asia adventure before it becomes crowded or expensive!
Short and sweet
Capital: Naypyidaw (not missing much if you skip it: it is just the official built-on-purpose capital, with very little going on or hardly any people walking about, feels a bit like a ghost city)
Top must see: Bagan, Inle Lake, Mandalay, Ngapali beach
Eating out: Would recommend international restaurants for the best hygiene (lot of rice, noodles and curries), drink bottled water
When to visit: Best from December to March for the dry (and not too hot) season
To get by: English language (the guides will speak good English and some French or German), Local currency is Kyat, you can exchange USD/EUR/GBP locally, but make sure the notes are not folded, the locals prefer bank-crisp notes
Did you know? In Myanmar there is a saying: Work and earn like a Chinese, save like an Indian and don't spend like Myanmar people! Apparently the locals tend to spend everything they have and don't save much… Maybe that is why they seem so happy and worries-free?!
Myanmar vs Burma?
Generally speaking they refer to the same country. For those interested in history, the country changed its name from Burma to Myanmar in 1989. Our guide explained to us that the reasons for the change were two-fold. On one hand the military junta wanted to create a sense of national identity, selecting a name that represents all ethnic tribes (not only the majority Burmans). Additionally, they wanted to avoid using the term Burma that was initially spelled by the British during their colonial times. The names of many cities were also changed in the same spirit.
Mandalay – the last royal capital
We started our trip with Mandalay, the country's second largest city and a cultural capital. At first sight, Mandalay might not seem to offer that many sights. But you will soon find out that you are running out of time to tick off the must-visit sights. We spent 3 nights in Mandalay and if you plan your schedule well in advance (and a bit of tight one), you can manage to see the top attractions. Make sure to allocate one day for a nice excursion to Mingun. Only 1 hour away from  Mandalay by boat, and you will find yourself in front of the below gigantic monument, to then visit the striking white Hsinbyume Pagoda and the Mingun Bell (weighting 90,718 kilos!).
Mingun Pahtodawgyi monument is supposed to be the largest pile of bricks in the world and unfinished! If completed it would have been 150m high. It was left intentionally unfinished. The King used many slaves and servants to build this temple in very harsh working and living conditions. So the myth says that people created a prophecy in order to prevent him from going ahead with it. As the King was very superstitious, he stopped the construction, in fear that "when the temple is complete, the whole country will be gone and the king will die" 😉
Another must when you are in Mandalay is a visit to U Bein bridge, only 11 km away. It is believed to be the oldest (built in 1850) and longest (1.2 km) teak-wood bridge in the world. As you will see below, sunset is probably the best time of the day for your visit (or just after sunrise) 😉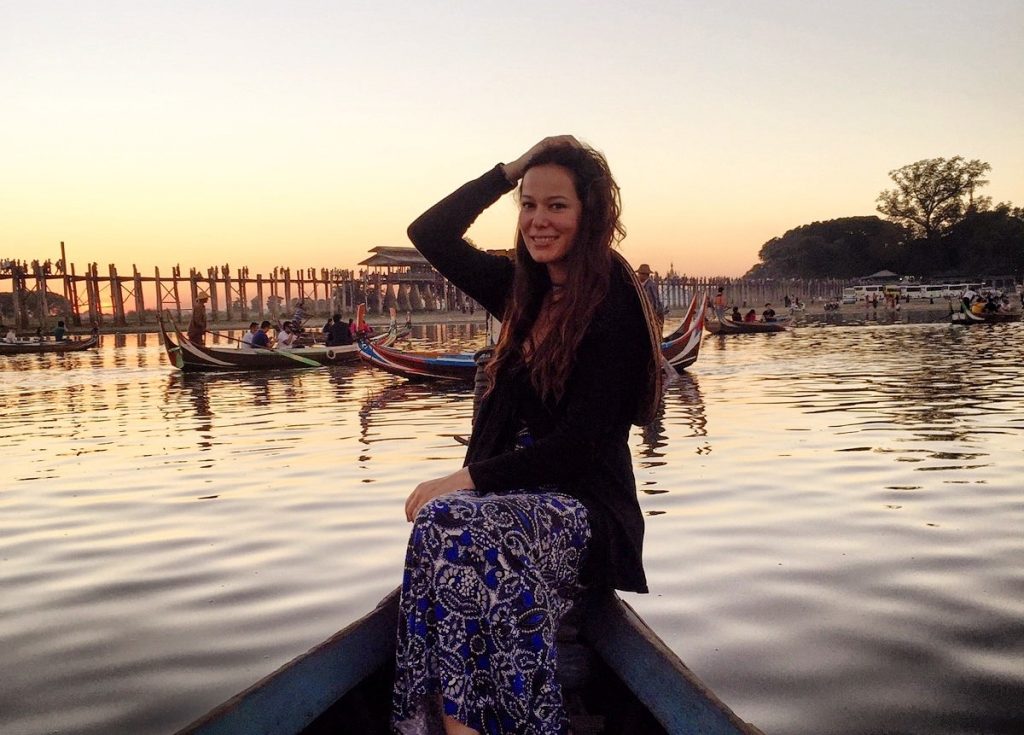 Bagan – countless temples and wonderful views
The following day we took the ferry boat from Mandalay to Bagan. I wouldn't really recommend the ferry for this trip. The journey was too long (9 hours or so) in uncomfortable seats and the scenery just ok (but not spectacular). To not forget that hygiene was not ideal (tummy issues following lunch on-board). So go for a flight if you can (domestic flights and even international flights within Asia are not very expensive).
As soon as you arrive in Bagan, you will immediately notice pagodas and temples popping up in every corner. There are more than 2200 pagodas in the Bagan region, which decorate beautifully the skyline, especially during sunrise and sunset. You can enjoy wonderful views from high up either by booking a sunrise air balloon trip or climb one of the pagodas to watch the sunrise and sunset. We went for both (at least we pre-booked both but were unable to go ahead with the balloon ride due to stronger winds that could have made the landing a bit too bumpy).
We watched the sunrise from North Guni Pagoda and the sunset from Shwesandaw Pagoda. They both offered beautiful panoramic views over the magnificent plains of Bagan.
Spend your days in Bagan by exploring the architectural masterpieces of this ancient city and the most important pagodas and temples. We visited Shwezigon Pagoda, the famous Ananda Temple, Htilominlo Pagoda, Damayazika and Damayangyi Pagodas and Manuha temple, while stopping around for short visits to smaller ones on the way.
In the afternoon you can enjoy a romantic horse cart ride among the ancient temples and pagodas before proceeding to the banks of Irrawady river for a sunset cruise.
Inle Lake
It is difficult to select a favourite among all the lovely places that we visited in Myanmar. But if I was forced to single out one location I would have been gutted to miss, that would have to be Inle Lake. This place is impressive!
Have you heard of the floating gardens? Perhaps you might have seen them in a documentary showcasing their uniqueness! Here you will have the chance to visit them up-close and for the daring ones to walk (sink) on one of them…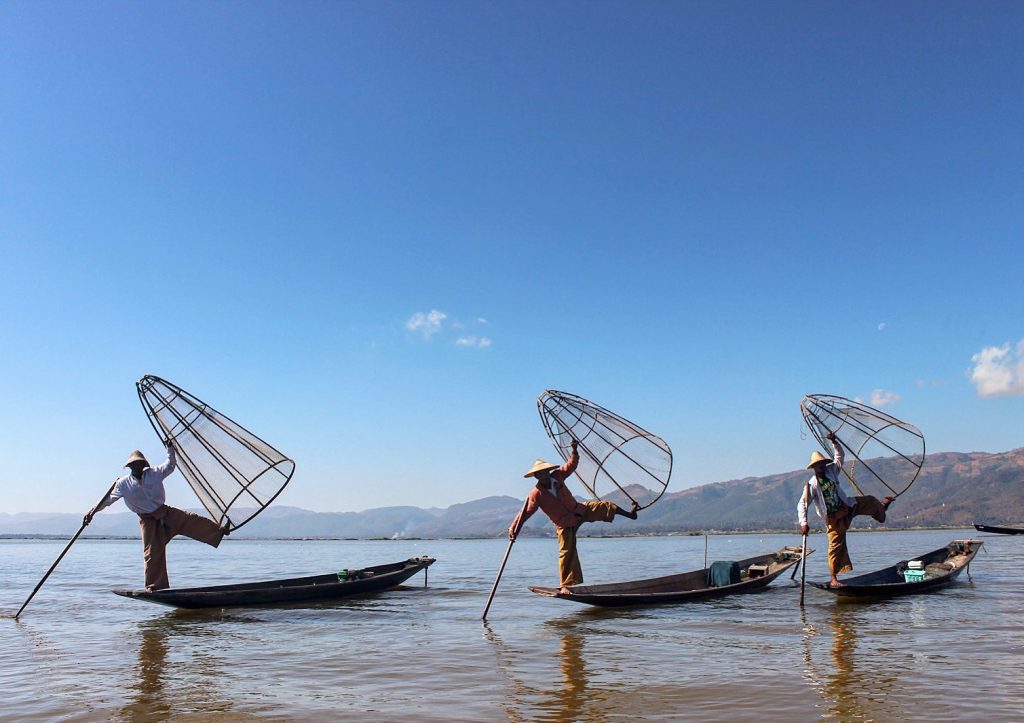 Admire the lake as it mirrors beautifully the clouds and the balloons. A very calming and peaceful setting.
Green Hill Valley Elephant Camp
In 2011 Green Hill Valley was founded by a family that had long history of working with elephants in the Myanmar Timber Enterprise. Their primary focus is to provide a home, food and medical care for elephants that are retired or no longer fit to work. Thousands of elephants in Myanmar used to work in the Timber industry. Recently the newly democratic government banned the export of raw timber, to help fight deforestation. And with the recent ban the number of elephants requiring care will be very significant. Thanks to the income provided by the visitors, the elephants can enjoy their retirement and you will love spending time with them, especially the feeding the bathing part!
 
The elephants were just adorable!  I could have stayed there for days…
Ngapali beach
As we tend to do on most of our long holidays, we allow few days of relaxation at the end of the trip to enjoy the beach or do almost nothing really. And Myanmar was no exception! After many days of early wake ups, trekking, lot of walking and wondering around we were ready for total relax. Especially after we had received very good recommendation on the sandy and quiet beach of Ngapali, with its clear and warm waters.
We stayed at Bayview hotel, very nicely located by the beach and closely to the quieter part of it (though the entire beach is really nice and secluded, nothing like the crowded ones you find in Thailand or Philippines). Not much happens here in the evenings, which makes it perfect for a romantic and relaxing getaway, but not an ideal destination for party animals.
Highly recommend the restaurant Ngapali Kitchen (we visited it 3 times during our 4 days stay)! Go for lunch so that it is not very busy (for dinner you might need to pre-book). A family-ran business (the husband is the cook, while mother and daughters the waitresses), cooking delicious food at amazing prices! My hubby ordered a full lobster and I went for the specialty seafood curry, both excellent.
Yangon/Rangoon
We closed our trip with a short visit to Yangon. One night stay is sufficient to check the city's main sights. Shwedagon Pagoda is the highlight of this city of course. You have to see by yourself the amount of gold and jewelry that the believers have donated to the temple. It is fascinating to hear the value of the donations (in the billions!) in a country definitely not rich…
Another experience that I would highly recommend was a trip with the train. A great insight into the daily life of the locals (including the sellers offering snacks, fruit and local specialties on the train). PS: As a foreigner I would suggest you pass on anything cooked at home, unless you have a strong stomach.
For a drink or dinner check out the wonderful view of Esperado Lake View hotel. Their lake view rooms and roof-top terrace offer the best views in town. We stayed at this hotel and it was lovely to enjoy the sunset while sipping a cocktail on their roof-top terrace. A great way to end an amazing trip!